Three CDMA players and now 3G service providers are offering high speed data cards and dongles. But the question is, what should you go for -- CDMA or 3G GSM? And which operator is better?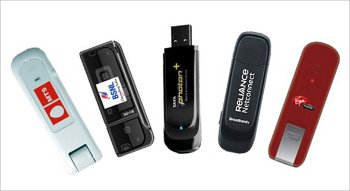 With very limited access to wired internet, wireless internet has gained a lot of momentum. While initially wireless internet available through data cards and dongles where very costly but now the prices has come down.

If you are looking to buy a data card, you will be pleased to know that prices of wireless dongles and data cards have fallen in recent times. It is unlikely that you will find significant price differences between brands for they are all selling at approximately Rs 1,500 to Rs 2,000, and this price range includes CDMA and GSM 3G devices. Only Tata Photon and Vodafone Wifi (that creates a Wifi hotspot around it) are more expensive at Rs 6,500 and Rs 5,500, respectively.

However, all wireless data cards and dongles vary in the speeds they're capable of and how reliably they manage to connect to the operator's network. While CDMA dongles offer a maximum speed of 3.1 Mbps (around 600 Kbps on average), GSM 3G is of two types -- 3.6 Mbps and 7.2 Mbps. Right now 3G networks aren't loaded so this technology tends to be faster, but as the number of 3G subscribers increases both 3G GSM and CDMA will be capable of similar actual speeds.

CDMA operators claim that since they work in the 800 Mhz band as against 21 Mhz band of GSM operators, there indoor connectivity is superior (lower bandwidth has better penetration of walls).
This Post is written by: Ritesh R. Warke GPRS Expert & Webmaster.
Ritesh R. Warke is a professional Ethical hacker, web designer and front end web developer.
Also visit our another blog
HOLLYWOOD CELEBS PHOTOSHOOTS HIGH QUALITY
Follow @Digital_Eye